Today it snowed.
It's the last day of school and the children were greeted with a garden covered with snow when they arrived home. What better way to start the Christmas holidays? Immediately Mr J and Miss A donned waterproof gloves, swapped shoes for wellies and headed out with the sledges for a bit of fun. Watching Miss A persevere with a sledge that didn't exactly whizz down our gentle slope in the garden, I pulled on my own wellies and went out to help - and take photos! Husband had said the snow was too wet, but actually it was starting to freeze as the sun went down and was almost perfectly slippery. In fact, I was able to pull both Mr J and Miss A around the garden on the sledges at the same time. I opted out when it came time for a snowball fight and snowman building, however.
The chickens do not seem as excited as the children. In fact, earlier they were standing at the back door looking at me as if to say "The sky is falling! Let us in!"
In other weather news... yesterday I survived driving in torrential - and I mean torrential - rain in the dark. As a new driver I'm still hesitant to step out of my comfort zone when it comes to new places or conditions. I was shaking by the time I got back from taking Miss I to town to sing in a concert, but I did it, and now I know that I can drive in pretty appalling weather!
Today was the last day of Miss C's playgroup. Next year the English two morning playgroup is closing and the Welsh two morning playgroup is becoming a bilingual group over four mornings. I have been worried that Miss C will not react well to the change, as she especially loves 'her' teacher from the English group. Fortunately it was announced today that the English playgroup leader will be helping out two mornings a week at the Bilingual Playgroup, so it won't be much of a change for the children after all. The only problem is due to funding issues they're not sure how many two year olds they can accommodate, meaning Miss C may not have a place in the new group. However, we will cross that bridge when we come to it!
This week I finally got a wreath for our front door. We've never had a wreath before - a combination of me thinking they are too expensive and unsuitable weather (too windy in the Falklands!) or unsuitable front door (not ours to bang nails into). At the school fair, however, they were selling wreaths for £5. After consulting with Miss C for about ten minutes we chose this one.
So, those are some of my reasons to be cheerful this week. What are yours?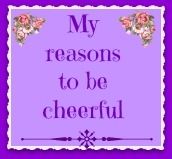 This is the Christmas one!! This one runs out next week.........on Christmas Day!!